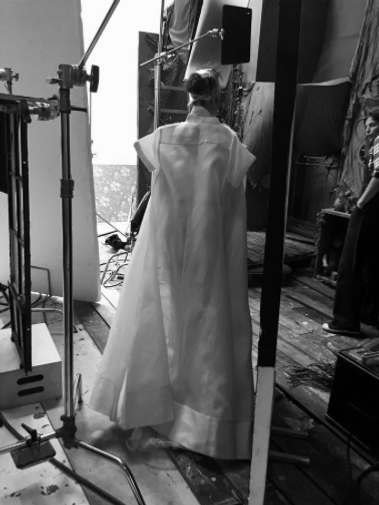 Sayuri is the nickname of T.L.Nguyen a freelance fashion editor/ stylist, consultant and creative director based in London UK,
Focused in fashion and beauty as Red Carpet dressing or VIP shoots.
Graduated in fashion design and visual communication, she started with assisting in Paris and is working since international.
Loves to create narrative stories around the world. Currently based in London and Germany several cities.
For more information about Sayuri's work, feel free to get in touch, or to just say hello.
Commercial portfolio available on request
Contact

FOR BOOKINGS & COMMERCIAL ENQUIRIES - Please contact
UK - Gary or Rosie at Gary Represents @garyrepresents.com
GERMANY - Please contact sayuri.sbf@googlemail.com
+
WORLDWIDE - I'm available for local projects, as well international bookings are welcome. Use the form to inquire about rates and availability, or just to say
HI!!! mail@sayuri-bloom.com at Ly
magazines:
VOGUE PORTUGAL, VOGUE RUSSIA, VOGUE ITALIA, VOGUE UKRAINE
HARPER'S BAZAAR CZ, HARPER'S BAZAAR INDONESIA, HARPER'S BAZAAR ARABIA, HARPER'S BAZAAR BRASIL
L'OFFICIEL UKRAINE, L'OFFICIEL SUISSE, L'OFFICIEL NETHERLAND, L'OFFICIEL ITALY, L'OFFICIEL BALTIC
NUMERO RUSSIA, GLAMOUR ICELAND, ELLE CZ, ELLE UA
DEPARTURES INT, The Economist 1843
MOJEH, SCMP STYLE, HUNGER TV, SCHÖN!, QUALITY, ONE US, BURDA, EQUISTYLE, MMSCENE, D'SCENE, 1883, MAX, YOU Magazine
Fashion Editor at large at CollectibleDRY
celebrities:
DJ Steve Aoki, Fleur East, RUEL, Betsy, Maye Musk, Franziska Knuppe, Billy Howle, Oliver Jackson-Cohen, Malachi Kirby, Pamela Reif, Toni Mahfud, Xenia Adonts, Larsen Thompson, Noomi Rapaze, Martha Hunt, Anna Ermakowa, Josephine Skriver, Crystal Renn, Lashana Lynch, Karen Ruimy
clients:
C&A, Beeline, GÜBELIN, Bijou Brigitte, Burlington, Deichmann, Design Hotels, Douglas, DKV, Gina Laura, Philomena Zanetti, Rich&Royal, Schwan Cosmetics, Studio Untold, Sioux, VW , WMA, and several more
photographers:
HUNTER&GATTI, CALEB&GLADYS, GREG SWALES, ANDREAS ORTNER, LINA TESCH, LUIS MONTEIRO, KRISTIAN SCHULLER, DAVID REISS, SIMON EMMETT, ARVED COLVIN-SMITH, RACHEL SMITH, LEONARDO VELOCE, SANDRINE&MICHAEL, DOMEN VAN DE VELDE, IRIS BROSCH, ALEXANDER MEININGER, MAX LIEBENSTEIN, MICHAEL GROEGER, ALEX TROMMLITZ, FELIX KRÜGER, PER-ANDERS PETTERSON, TRISTAN RÖSLER, THOMAS KETTNER, THOMAS KNIEPS, OHM+PRETZSCH, STEPHAN GLATHE, YIANNIS MOUZAKITIS , RINALDO SATA , JAMES MEAKIN , LEE MALONE and more
customizing
always open to work as well really creative with own customised creations and recycled, combined unusual materials.
art direction
create an idea for your production or as well for own upcoming editorials. Working with InDesign to create an most powerful mood board as possible.